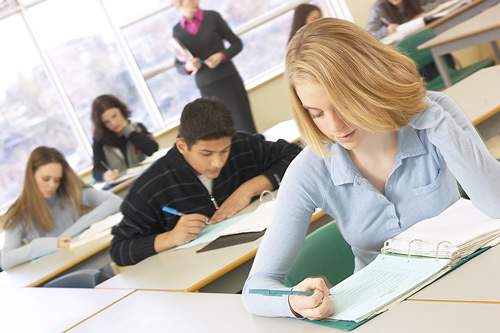 What is Flex?
Flex is a class period between 1st and 2nd periods. It is designed for the purpose of remediation. Everyone is registered for a flex class.
Using a flex pass, students may use this class to make-up tests or get help in any of their classes. They can use this time to do homework, or classwork. We also offer enrichment classes, classes for High school credit and classes for college credit. Something for everyone!
We have six flex sessions - two for each trimester. Students have the opportunity to "register" for the class they would like. If they choose not to register, a class will be chosen for them.
---
What happens if I fail flex?
If you fail a flex class, you lose the privilege of walking across the stage at graduation. You will, however, have the opportunity to make up this fail. If you complete the requirements, the privilege of walking across the stage at graduation is restored. For students who fail, a letter with the necessary instructions is sent home.
---
How do I register for flex?
You can either register online, or you can come to the flex office to register.
When registration is open, you will see a "click here to register" under the Flex class and Registration dates below. You will need your student username (the same 7 letters you use to sign on to powerschool) and a list of classes you have for the same trimester.
---
Flex class and registration dates:
2016-2017 school year
Registration for 6th session will open on March 24th and close after March 28th.
Registration is closed
1st session
Class runs: August 24-October 6
Registraion: September 12-15
Classes run: October 7-November 21
3rd session
registration: October 24-27
Class runs: November 28-January 17
4th session
Registration: December 12-15
Class runs: January 18-March 2
Registration: February 10-14
Class runs: March 6-April 20
Registration: March 24-28
Class runs: April 21-June 2
If you are having trouble logging on to register, contact Kendra Taggart - Flex secretary.
kendra.taggart@ccsdut.org
---
More questions?
If you would like a copy of our "getting assigned a flex class - policies" or you have more questions about flex, Please contact
Kendra Taggart - Flex Secretary
kendra.taggart@ccsdut.org
---